All in the name of fun and laughter.
The Tonight Show With Jay Leno
is the best time of my night. My brother and I always make sure not to miss his opening monologue, where he dishes out real news with saucy one-liners and side comments that are just hilarious.
Our favorite segment of the show, however, is
Headlines
. I have a particular fondness for this, not because of its laugh value, but because I used to be a former college paper editor.
Our December 2002 issue ran a headline picture with two craftsmen making a traditional Christmas lantern, with the caption reading (as I remember it):
The most wonderful time of the year.
Workers use their skills to make the perfect
Chirstmas
lantern. Perfect indeed.
And since I've been laughing the whole day at work reading Headlines online, here's one that made me laugh a long time.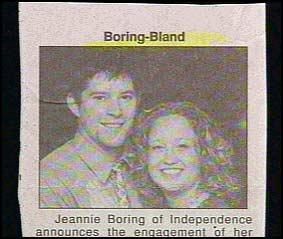 Gateway to an exciting marriage.

What are the odds that these two would find love in one another?