Bellyaching.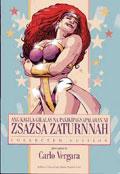 Zsa Zsa!
That's what I was doing last night, and it was all due to Carlo J. Vergara's
Zsa Zsa Zaturnnah
. Apparently I was laughing so hard my dad poked his head into my room several times and couldn't understand the reason. Save for some slight melodrama in the end (of course it's a happy ending;
Pinoy tayo eh
), I loved it! He encapsulated the whole of the Filipino experience and our particular idiosyncrasies as a people. In other words, you'll be smiling and nodding the whole time.
In fact, it reminds me of another comic book story that the demi-gods of our former Art & Graphics staff in
The LaSallian
back in 2001, titled
The Other Story,
and it dealt with La Salle student stereotypes, with plenty of wit thrown around, and how they managed to save DLSU from an evil Blue Eagle masquerading as the then System President, Bro. Rolly. Hehe.
Buy it. You won't regret it. And for PHP 240, it's not even expensive. In this collected edition, you'll even get four glossy and full-color posters of the main characters. And there's always the added pride that you get when you buy
Pinoy
and get your money's worth, too.