Jesus Rock.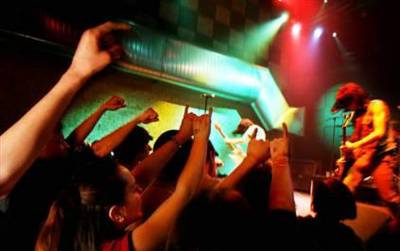 From Newsweek

After hearing about Christian gyms a while back, I should have seen this one coming.
This looks like an ordinary club, although in truth it isn't.
Welcome to the world of Christian Clubbing (?!?), where teenagers and young adults can groove their bodies and their minds in the name (and music) of God.
According to the
April 19 article
in Newsweek, several Christian clubbing places have been cropping up in US cities such as Dallas, Minneapolis, and Nashville. What's the deal? There's nothing different from secular clubs, except for the non-drinking, non-smoking, the mostly Christian acts, and the sharing of the gospel at the end.
And now, says a happy Christian camper, you don't have to be a dork to be a Christian. Rock acts such as P.O.D. have been known to cut across the scene from time to time.
Will this cultural phenomenon spread across the lands of Manila? We shall see in due time.