Mom.
My mother got married to my dad when she was 18, and my dad was only one year and one week older. The adventure of a lifetime, maybe? For the first three years, my parents inform me, they were little more than fights. They enjoyed a reprieve in this photo. Sweet.
Whenever they fought, Mom would run off to her mom in Novaliches and stay there until my dad fetched her, late at night, to go home to Pasay (where we live now). My dad used to pick up rocks from the street to throw at the dogs who'd come barking and snarling along whenever he went by. It was the only way he could dodge them.
Mom wasn't finished yet with college when she was pregnant with me. The day of her graduation from college, she was four months pregnant, I think. I'm not too sure of that, but I do love the blouse she wore in this photo. I wonder where it is now.
When she gave birth to me, she was so surprised to see how dark I was. She tells me that when she saw me, the first thought that ran through her mind was "
Ay, ang itim naman ng
baby
ko
." Mom is fair, you see. And clearly, I was loved. Very much.
I had to be in the hospital for two weeks after birth because of a skin condition called jaundice. I was left under the incubator, and as Mom wryly says, that didn't help much with my skin color. Yes, I was loved a lot.
Mom used to be so sneaky when I was a kid. She and I would have our "morning showdown", as she fondly calls them, because I refused to wear the clothes she picked out for me to wear. I know, vanity is a sin. But not all six-year olds wanted to wear a beret when they went to school, particularly if it kept falling off their heads. Not comfortable, believe me.
So what did she do? She decided to take charge of my closet, but leave me with creative control. The Sunday before school, she would let me choose my outfit for the whole school week, and then put them in their appropriate label in my cabinet - Monday, Tuesday, Wednesday, Thursday, Friday. I had to wear what I chose, and if I didn't like what I chose, I had to live with it.
See? Sneaky.
It was to her my siblings and I would ask permission to swim in the neighbor's pool, to have our friends from church sleep over, and to beg money for cherry-flavored ice cones, among others. I would always tag along during her shopping time and invariably get a Barbie doll out of the bargain. It was a bribe from her so that I could just quit whining ALREADY.
I remember begging for a Peanuts-inspired cartoon lunch box that cost six or seven dollars. Even though it was expensive, she still bought it with the admonition that I would use it. I loved it to pieces.
On my seventh birthday, she took me to watch "The Little Mermaid" at the local cinema. I fell in love with it so much that I got "The Little Mermaid" inspired bedding and a cute nightgown...on my ninth birthday. I still loved it anyway. And I still have the bedding.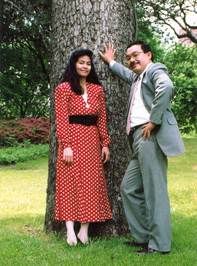 Mom loved dressing up, and she had a lot of pretty clothes and dresses, because she had a job working for a clothing factory. Mom's vanity would be whetted and then she'd bring home some fancy dress that she expected me to wear. Mothers. How could I go play with some silly dress? They were itchy and scratchy, even if they were designer. I mean, who cared? Don't get me wrong, I was pretty vain as a kid. Hence, all that "morning showdown" business. Today, Mom bemoans the fact that I was more fun to dress up when I was a kid than now.
I have so many memories of Mom. I remember calling her up when I found out I was on the Dean's List in college for the first time. I remember her coming with me when I had lost ALL the editorial board examinations. We stood near the Taft Avenue MRT station asking bus drivers for the address of the RCTC Liner, because I left them inside one of their buses. Brilliant, I know.
I remember her teaching me how to read when I was four, and all of our subsequent trips to the public library in Arlington. We never left empty-handed. I remember her teaching me how to drive in Cavite at my
lola's
place, and the words she said after our first lesson: "
Mag
-driving school
ka na lang
."
Mom is good at so many things. She doesn't like to read, but I can never beat her in Boggle or Scrabble. I tried vainly last Christmas, but failed miserably. She makes a mean dish of scalloped potatoes and baked chicken. She can drive like nobody's business, and believe me, when others try to make it THEIR business, they're sorry quickly.
Mom, belated Happy Mother's Day. Even though you may have the highest score in Text Twist, we are always better as a team. I love you.