And that's why local tourism should continue to thrive.
I was out in Bohol for the long weekend, along with other members of our company. We were excited about seeing the Chocolate Hills and especially the world's smallest living primate, the tarsiers.
R
. had told us beforehand about the impending trip, although I made the mistake of blurting out "Wow, Bacolod? I've never been there," only to have myself laughed at. These Philippine provinces, they confuse me.
All smiles (almost) at 7.30 in the morning
The flight was mercifully uneventful, for which I, who normally abhor this, was thankful. That, and being sandwiched between
R.
and
D.,
who thoughtfully exchanged stories about pilots flirting with pretty stewardesses which resulted in dying passengers, and stories about the
National Geographic
show
Aircrash Investigation
. I actually told a story about the latter. It was a proud moment.
After a somewhat smooth flight (I never classify flights as smooth unless I become high on my meds), we landed on Bohol soil for the first time and took our ride to our resort. Along the way, we glimpsed clean, blue-green water, houses built on water, a lot of SMART and GLOBE e-load posters, and signs like this:
HOY AYAW IHI
Guinadili ang pangihi...
(I can't remember the whole phrase, sorry)
Personally, I liked the first one. Succinct and to the point.
When we arrived at the resort, we learned that only one room was ready for occupancy, the other three being occupied until 12 noon, their checkout time. We chucked all our luggage in that room, rushed to the bathroom to change, and went immediately to...
the swimming pool. The beach was a second choice, seeing that it was full of
lumot
. We decided to lounge first by the pool area and unwind there. As we frolicked in the water,
R.
remarked with a laugh, "
Sa
pool
lang pala tayo dederecho
.
Dapat nag
-Laguna
na lang tayo
, hot springs."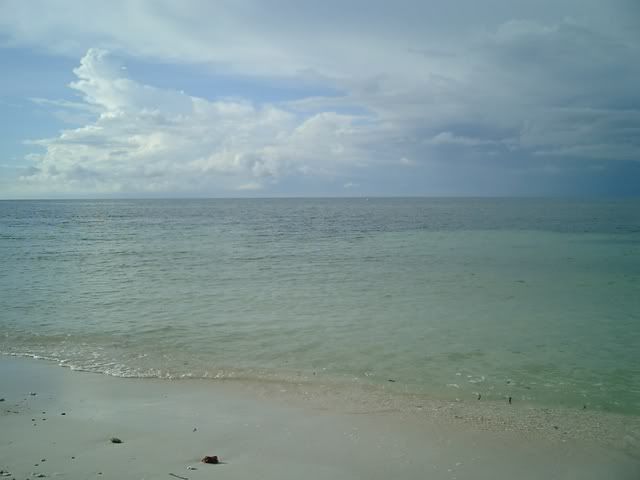 The beach at its prettiest, on Monday morning
Lunch was at a nearby place, with chicken and tuna and parrotfish and other staples of beach food. Who said that we weren't hungry? We were ravenous. I could show you our attacking of the poor, helpless food...but maybe not. I'll just show you these pictures, which
R.
took when we stopped to take pictures of the monument of the famous Blood Compact the next day.
The view from the top



In good company and then some
On our first night, we were sitting in the pool bar, wondering what games to play as a group.
D.
suggested we play "modified truth or dare", a suggestion that probably would have been good had it seen any light. In retrospect, it was a source for a lot of laughter. A lot.
In the end, we decided to play a version of "Trip to America", where the theme was "describing the person seated beside you", whether it be the clothes they wore, or the unique things about them. It was sedate at first, but then it got a bit smart. Without giving anyone away, here were some of the descriptions:
Kung makakapunta ako sa
America,
magdadala ako ng
Merman!
Makakapunta ako sa
America
kapag
...
magpapatapyas ako ng
boobs!
Can I go to America if I like tequila rose?
Makakapunta ako sa
America
kung magpapa
-manicure
at
pedicure
ako
! (this coming from a guy)
There's more, but I don't want to be any more boring than I have been already. So henceforth, I will describe the sights and sounds and everything around.
Enjoying the view on the river cruise
Our second day was busy. We were going on a river cruise, visit the tarsiers, and see the Chocolate Hills! After a delicious (burrp) lunch at one of the restaurants beside the river, we then clambered on a boat that would take us around the river. And boy, was the scenery just gorgeous. The whole expanse was full of trees and greenery, and the river was calm, glassy, and inviting. Local boys would jump out of the coconut trees and into the water. Deep down I'm sure they were gloating at their good fortune and secretly mocking us for not being able to swim with them.
Isn't the Philippines beautiful?
After enjoying the cruise, we then went on to the next item on our agenda, the tarsiers. Although we weren't able to visit them in their natural habitat, we nevertheless still saw the little creatures in a DENR protected area. They were so small we couldn't find them in their trees, but eventually we caught sight of the sleepy little animals.
Could literally fit in the palm of your hand
As we were fawning over the tarsiers, more and more people came up to look at them, and pet them too, despite the explicit sign "No handling of the tarsiers". Pinoys, you can't beat them at anything. The tarsiers were getting sleepier by the minute, because they were nocturnal animals, so we tried coaxing them into opening their eyes. It worked sometimes, but not all the times.
After that, it was off to the Chocolate Hills. First, though, was the ride through a lush and beautiful road full of trees and greenery on both ends. With the sunlight dappling on the leaves and filtering through the branches, everyone was quite hushed. We went back after our trip to the Hills and took a group picture, with everyone scampering off the road right after the flash of the camera.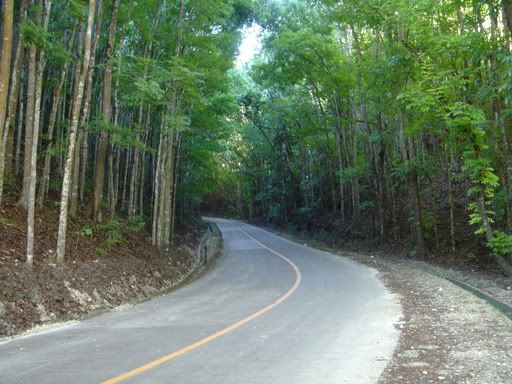 Frodo is hiding somewhere in this forest


A longing glance at the beautiful trees and then we were off to the Chocolate Hills. At the foot of the lookout point, there was a sign that said there were 214 steps going up.
T.
and I brazenly decided to count the steps to see if there really were 214 steps all in all. By the 100th step, we were barely breathing and wheezing like old geezers. Out of shape, that's us, by the way.
They're not really made of chocolate
These hills have been a source of constant bafflement to scientists, because they just seemd to appear magically out of the ground. They don't know what caused these hills to rise. Whatever the reason, it will never detract from its beauty.
Bohol was an adventure, in more ways than I could tell you. There will be something to look forward to in more trips to the provinces. The allure can never be hidden.

*A happy thanks to N., A., and R. who arranged this trip.

Kailangan pa bang i

-memorize

yan

?